---
Please make all payments payable to the Law Society of Alberta.
For information on making payments to ALIA, please visit this page.
Payments can be made by:
Electronic Funds Transfer (Firm Administrator Portal only)
Online Bill Payment (Lawyer Portal and Firm Administrator Portal)
Wire Transfer (Form must be completed and submitted to ensure payment is processed. Your financial institution may charge a fee to complete this wire transfer. It is your responsibility to account for additional bank fees and currency exchange rates when remitting your fees to the Law Society)
Note: Confirmation of receipt of payments and payment processing can be found on the Lawyer Portal following completion of payment.
Please note that bank teller payments, direct deposit and bank drafts cannot be accepted, as financial institutions do not provide the Law Society with the appropriate information to associate lawyers' membership information to their payment.
The Law Society is registered with the major banks:
Vendor name is the Law Society of Alberta
Account number is either your member ID number or student ID number
Change Payment Options – Electronic Funds Transfer & Online Bill Payment
Following on the decision in 2018 to remove cheques as a form of payment starting in 2020, the Law Society and ALIA will also be eliminating the option to use credit cards as a form of payment. Starting February 1, 2020, The Law Society will no longer accept payment by cheque or credit card. Payments can be made via online banking or electronic funds transfer (EFT). Setup for electronic funds transfer or online bill payment is a one-time process – please follow the steps below: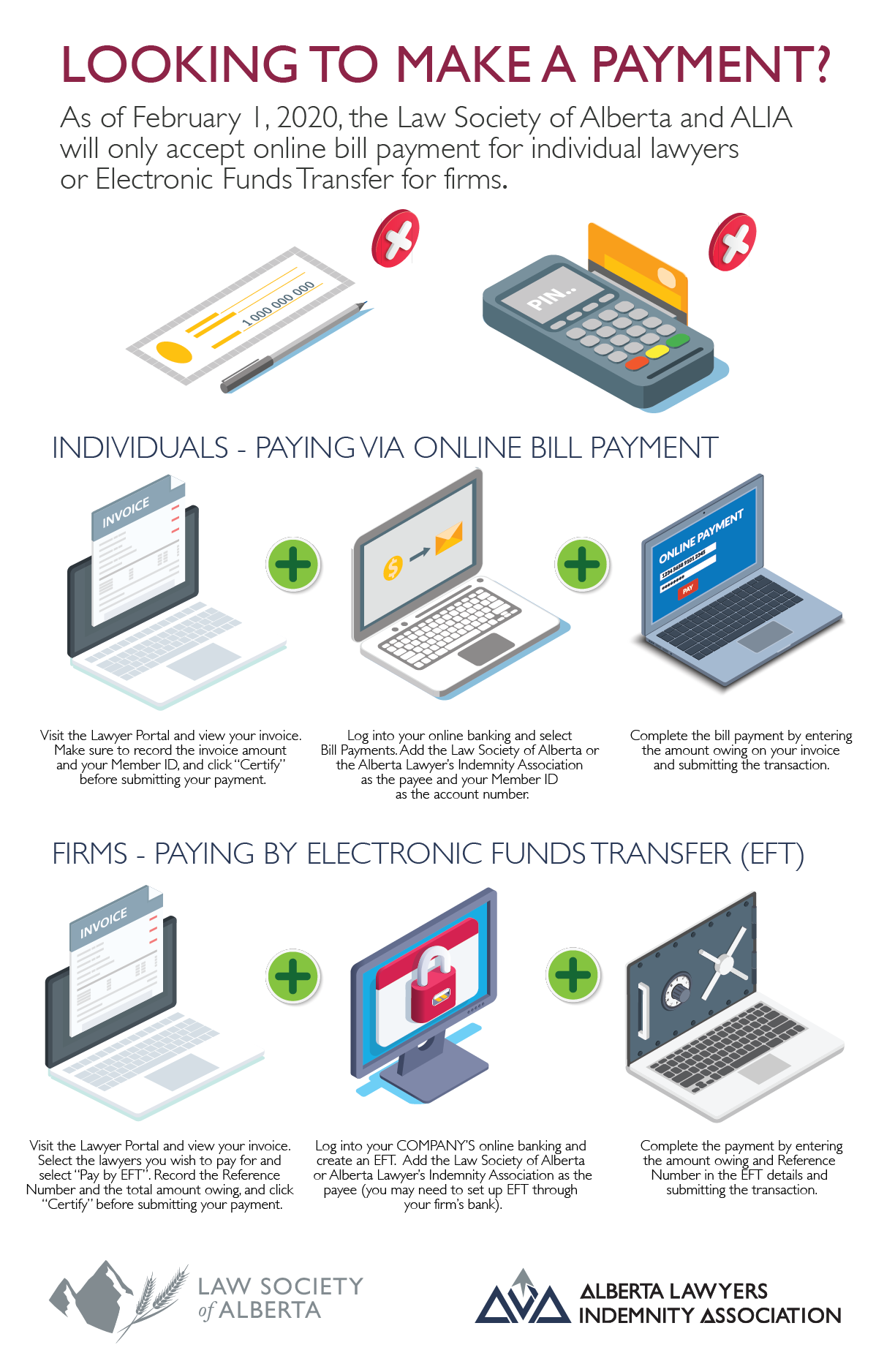 Frequently Asked Questions