What Lawyers Can Expect If They Are the Subject of a Complaint
What Lawyers Can Expect If They Are the Subject of a Complaint
---
All complaints, regardless of how they are addressed, form part of a lawyer's regulatory history. However, the nature of the complaint will affect the way it is processed.
Complaints are streamed into either the Conduct Process (disciplinary) or the Early Intervention Process (non-disciplinary) per Rule 85 of The Rules of the Law Society of Alberta.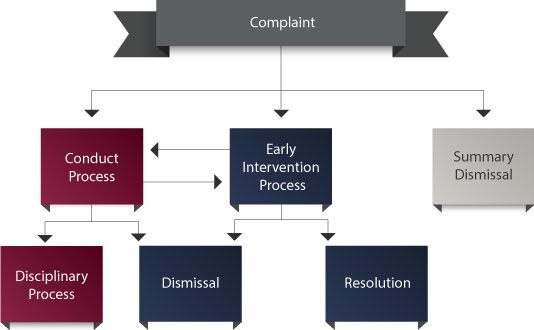 .
Lawyer Responsibilities in the Complaint Process
It is the responsibility of the lawyer to:
Cooperate with the Law Society;
Respond fully and substantively to any requests of the Law Society;
Respond within any timelines or in accordance with any deadlines of the Law Society. While Rule 85 requires that you respond fully within timelines, reasonable requests for an extension submitted before deadlines will ordinarily be accommodated;
Be candid and courteous in your responses to the Law Society;
Meet your ethical duty to notify the Alberta Lawyers Indemnity Association about a potential claim, where appropriate and within required time frames; and
Maintain the confidentiality of the complaint process in accordance with s.78(3) of the Legal Profession Act.