---
Note: Existing Mentor Express mentors and mentees can log in to their account here.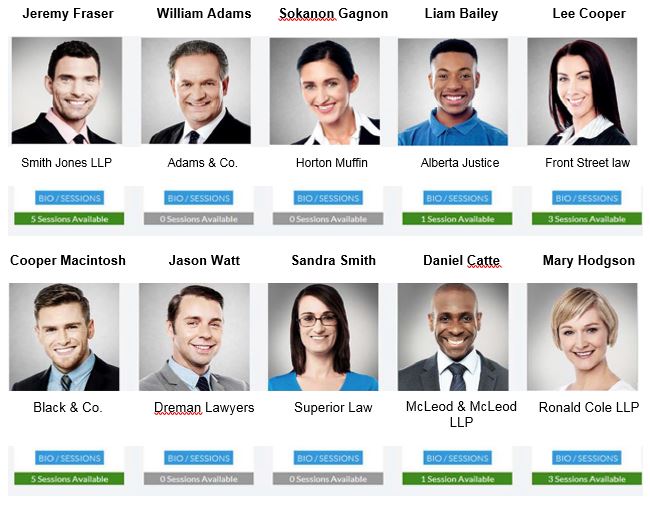 Mentor Express is like online shopping for mentors. Mentees browse an online listing of mentors and choose sessions with whichever mentors they are interested in meeting. The self-match system allows mentees to seek guidance and insight relevant to their own career development with a variety of mentors in different work settings.
How does it work?
Interested mentors and mentees fill out online applications to be considered for the Mentor Express program. Mentors must have practised at least five years to join the program.
Once approved, mentors fill out a short online profile about themselves with a photo and provide some dates when they would be available to meet with mentees. We ask mentors to make themselves available for up to ten sessions over the course of the program year.
As part of their profiles, mentors also choose specific tags to better describe the perspective they are able to offer (practice areas, interests, experiences).
Mentees can visit the mentor listing as often as they want to see who they may be interested in meeting.
Mentees book meetings with their preferred mentors on a first come, first served basis. They do this by simply clicking on the meeting dates listed on mentors' profiles.
Mentees can log in to their "My Sessions" page to see a list of the mentoring sessions they have booked and get their mentors' contact information.
Mentors can see which mentees have booked sessions with them by logging in and viewing their "My Sessions" page.
Mentees are responsible for contacting their mentors to confirm when and where they will meet and to make any changes if needed.
There are no assignments, tasks or deadlines. Conversations and topics are driven by the mentee.
To get the most out of Mentor Express, we encourage mentees to prepare by asking themselves: Why did I choose to meet this specific mentor? What guidance or insight am I seeking from them? What are some questions I'd like to ask them?
Apply as a mentor or mentee for Mentor Express. For more information, view the resources below or contact Mentor Express.
Resources
Mentor Express FAQ (printable version)
Mentor Express Discussion Topics for Mentors & Mentees
Frequently Asked Questions