---
The Law Society protects the public interest and promotes a high standard of professional conduct by reviewing complaints regarding a lawyer's conduct. It also addresses any legal issues that arise during the complaint process.
National Discipline Standards
We are currently meeting 75 per cent of the Federation of Law Societies of Canada's National Discipline Standards, and we expect this to increase to 80 per cent by the end of 2019.
Due to the current requirements of the Legal Profession Act, we are not able to meet 100 per cent of the current standards without amendments to the legislation.
Issues concerning lawyers in Alberta
In 2018, the Law Society's Intake Specialists received 1,208 concerns about Alberta lawyers. Of those, 424 were directed to Conduct and 784 to Early Intervention.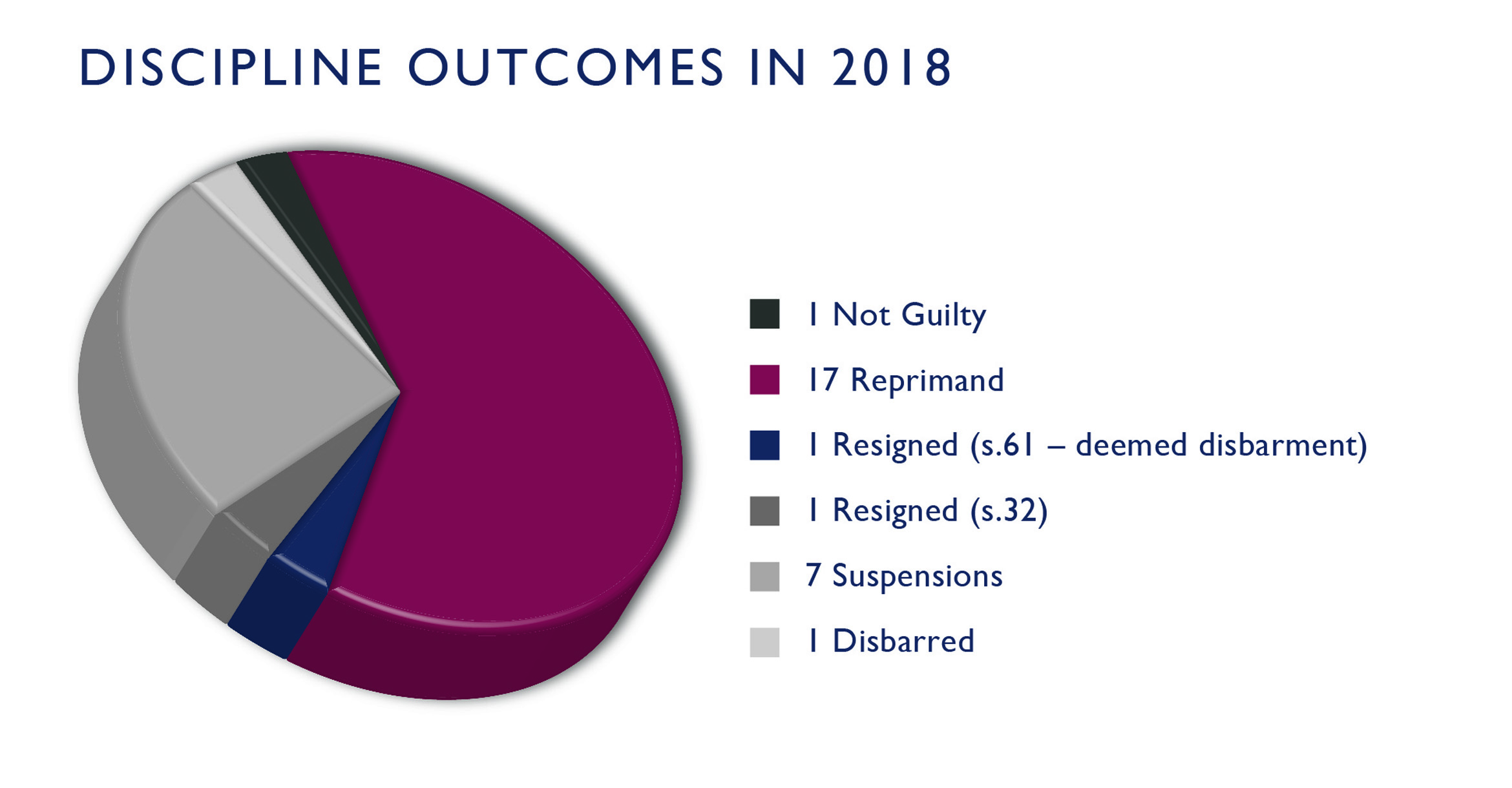 Definitions
Hearing Committee
When a lawyer is directed to hearing, the matter is heard by a Hearing Committee. If a lawyer is found guilty, penalties can be imposed including a reprimand, fine, suspension, and disbarment.
Fined: When a lawyer is required to pay a financial penalty to the Law Society of Alberta.
Not guilty: When all charges (citations) against a lawyer are dismissed.
Reprimand: A formal expression of reproach, either written or oral, issued by the Hearing Committee, which becomes part of the lawyer's conduct record.
Suspension: A lawyer's membership in the Law Society of Alberta is suspended and they are prohibited to practise law in Alberta for a specific period.
Disbarred: The lawyer's membership in the Law Society of Alberta is terminated and they can no longer practise law in Alberta.
Resignation Committee
When a lawyer applying to resign is the subject of current complaints and discipline proceedings, the lawyer will have their resignation application heard in front of a panel of three Benchers.
Resigned (s.32): A lawyer who faces conduct proceedings but is given permission by a Resignation Committee to resign due to certain mitigating factors or circumstances, or a lawyer who seeks to resign for other reasons (e.g. relocation, retirement).
Resigned (s. 61): A lawyer who faces serious conduct proceedings which would likely give rise to a penalty of disbarment by a Hearing Committee but is instead given permission by a Resignation Committee to resign. This is equal to a disbarment.