Setting the Bar High
Wade Brown Becomes the First Blind and Paraplegic Lawyer Called to the Alberta Bar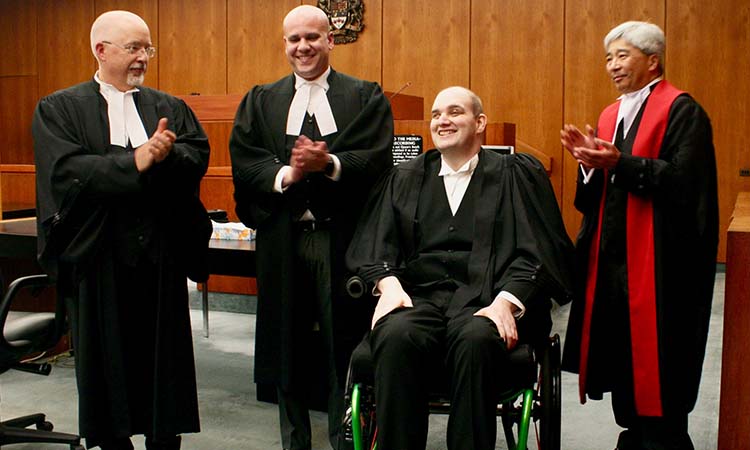 Pictured (left-right): Andrew Geisterfer, Adam Zibdawi, Wade Brown, the Honourable Mr. Justice Douglas R. Mah
As Wade Brown heard his name called to the Alberta Bar on July 19, the joy of the moment was not only overwhelming for Wade himself, but for the entire courtroom. Emotion was written on the face of the Honouable Mr. Justice Douglas R. Mah as he delivered encouragement and affirmations to Wade in front of a crowd of more than 50 supporters, friends, family members and colleagues.
"It's amazing to be able to finally say that I'm a lawyer – that's a huge mental breakthrough. It was a very emotional Bar call, almost surreal," he says.
As the first-ever blind and paraplegic lawyer called to the Alberta Bar, Wade represents not just an example of incredible determination, talent and hard work – he represents the power of curiosity and education to change a life, despite challenging circumstances.
Overcoming adversity with memory
Almost immediately after birth, doctors discovered that Wade was born with a degenerative eye condition. By age 15, Wade's vision had declined extensively, and ultimately failed him entirely. This was a devastating blow, and he struggled to adapt to his new reality.
Despite this setback, Wade was eager to learn and hungry for knowledge, and education was a driving force through his challenges.
"I've always enjoyed learning and going to school," says Wade.
Growing up, although there wasn't a lot of technology to support accessibility for the visually impaired at the time, he never had any difficulty keeping up with his classmates. Armed with an incredible memory and a basic desktop video magnifying device, he was able to grasp and retain concepts with ease.
As the years progressed, Wade graduated high school and was ready to pursue post-secondary education. He completed a Bachelor of Science in psychology from the University of Alberta, and from there began looking into graduate programs. He initially wanted to become a clinical therapist or a professor, but after talking with a close friend from Montreal who was also visually impaired, he was convinced otherwise.
"She was really gung-ho about going to law school herself, and she told me I should really consider it too. I remember her saying 'It's ideal for someone like you, Wade, who has good grades and good communication skills and good people skills' and all these wonderful things," he explains. "So, over the next month or two, I started researching law schools."
He was accepted at the University of Alberta, and with law school on the horizon, his future was beginning to take shape.
Learning the law through listening
While a legal education was an exciting prospect, new challenges were sure to come along with it. As every lawyer knows, law school involves a significant amount of reading and studying, and the prospect of taking on this workload without complete accessibility would be daunting to many. But, Wade found a way to combine his memory with technology and rose to the challenge.
Wade used JAWS (Job Access with Speech) text-to-voice software throughout his law degree, allowing him to read various file types and documents incredibly quickly. In fact, by listening to the voice that JAWS uses, Wade can digest information almost twice as fast as a sighted reader.
"I've been using this software for 20 years, so to me it's practically a member of the family," he laughs.
Using JAWS, Wade can consume and memorize enormous amounts of information, in part due to a phenomenon called synesthesia.
"I've been doing it my whole life, but I didn't actually know what it was until I was in my first or second year of university," he says.
In his own words, synesthesia is a condition where when one sense is engaged, another is activated as well.
"In my case, when I hear things or think about things, they're represented in my mind's eye as patterns of colours."
With this condition, Wade was able to conjure up different colours and symbols when he heard new concepts in law. Whenever he needed to know that concept moving forward, he simply brought the appropriate colour formations to mind and recalled the details.
After graduation, complication – and rehabilitation
Wade's exceptional intellect and learning techniques brought him through law school with continued good grades, and, after taking a year to find articles, he secured a position in 2017 at Masuch Law through a mutual connection.
Only two months prior to the anticipated start of his articling position, Wade awoke in the middle of the night with terrible chest pain and was rushed to the hospital. His aorta had split, and within hours, he underwent life-saving emergency surgery. He ended up in a coma for several days in critical condition, and when he finally did wake up, he realized he was paralyzed from the stomach down.
Through three weeks in the Intensive Care Unit, three months in the Mazankowski Heart Clinic at the University of Alberta, four months in the Glenrose Rehabilitation Hospital and another three months recovering at home, Wade never gave up on his goal of becoming a lawyer. In April 2018, he picked up where he left off and started his articling position, dividing his time between working in the office and working from home.
Bringing your best to the table
Throughout his journey, Wade has maintained a remarkably positive attitude and is excited to begin his career in law. He serves as a beacon of hope and an inspirational role model for future lawyers who may face similar obstacles.
"If someone is going through this kind of a situation, it is so important to realize that there are many things that you can provide that are valuable. Focus on the things you bring to the table and not just the extra work that you're creating for others," he says.
As for himself, Wade looks forward to diving into various areas of practice, including real estate, wills and estates, tax planning and immigration law.
Congratulations, Wade, on your admission to the Alberta Bar and your remarkable achievements.