Letter from the Law Society: Let's Not Return to 'Normal'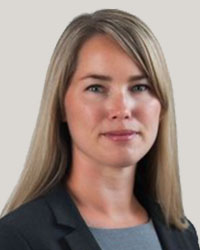 Rebecca Young is the Law Society's Education Counsel. The Law Society's Education department plays an integral role in the development and implementation of the competence and wellness programs and resources that have and will result from the Law Society's Strategic Plan and Lawyer Licensing and Competence in Alberta Report.
Mental health has been top of mind for employers and employees alike throughout the past 18 months and there is no how-to guide on navigating this pandemic. We have been forced to make quick decisions based on rapidly shifting information and expectations, and with, at times, little assurance our decisions won't harm the safety and health of our family, colleagues and clients. We have all experienced varying degrees of challenges and suffering. For a profession that generally has an intolerance for uncertainty, this created a lot of stress. Acknowledging that we are dealing with collective stress and grief has helped to normalize talking about and promoting mental health. While this is encouraging, we need to keep the conversation going post-pandemic, whenever that may be, if we are going to bring about long-term positive change in the profession.
Let's remember that pre-pandemic, our profession already had high rates of mental health problems. Based on the last large-scale Canadian survey conducted in 2012, 58 per cent of lawyers have experienced significant stress and burnout, 48 per cent have experienced anxiety, and 26 per cent have experienced depression. These percentages assume that lawyers accurately self-disclosed, as we know that due to fear and stigma many people do not feel comfortable disclosing that they are experiencing mental health problems. Studies in the United States released in 2016 and 2021 reflect these trends. The National Well-Being Study currently being conducted by the Federation of Law Societies of Canada will provide us with updated statistics, but I would hazard a guess that the mental health of our profession in Canada has not improved.
While not everyone has experienced a diagnosed mental illness or substance use issue, we all have mental health. The World Health Organization defines mental health as a state of well-being in which the individual realizes their own abilities, can cope with normal stresses of life, can work productively and fruitfully, and is able to contribute to their community. As with our physical health, our mental health moves on a continuum throughout our lives and it is inevitable that we will all at some point have poor mental health. Just as it is possible to have poor mental health but not have a mental illness, it is possible to have good mental health even with a diagnosis of a mental illness. The Canadian Centre for Occupational Health and Safety and the Canadian Bar Association have free online courses that provide a more in-depth review of this topic, along with common mental health problems and recommended treatment and resources.
Once our work environment returns to 'normal', however that looks for each of us, many of the same issues that contributed to the decline in our mental health pre-pandemic will continue to exist. Many of us will still face excessive working hours, high pressure and competitive environments, high-conflict situations, and be subject to both internal and external unrealistic standards of perfection. The transition may also come with its own additional stressors. While there are no easy fixes to some of these issues, making mental health a priority can help to reduce the effect of these unhealthy aspects of our work and provide a healthier and safer work environment.
You may be asking yourself what you can do to bring about positive change. Prioritizing our own mental health is an important first step. We all know what we are supposed to do: have work-life balance, personal interests, eat and sleep well, exercise, and have social connection, among other things. But it can be easier said than done, and we all have unique needs and values that make having a one-size-fits-all approach untenable. Implementing and regularly reviewing a personal wellness plan can help to reflect on what success means to us on a personal level and why we are doing the work we do. The Distress Centre has a free step-by-step guide and template to get you started, and Alberta Lawyers' Assistance Society (Assist) has resources and supports to help meet the goals set out in a personal wellness plan.
With the amount of time we spend with colleagues, even virtually, we might notice if someone is acting outside their norm, but often we aren't quite sure what we can or should do. Often the single most important thing we can do for a colleague is simply to be supportive. Being supportive means asking how colleagues are doing and caring about the answer, treating them with respect and understanding, and if they choose to disclose concerns to you, encouraging them to seek professional assistance. Being supportive does not mean pressuring colleagues to talk when they don't feel comfortable doing so, minimizing their concerns, or trying to be their counsellor or manager (unless you happen to actually be their manager). Knowing how to broach this topic with someone can feel daunting, but Assist and Harvard Business Review have free resources to help navigate the conversation. Assist's registered psychologists can provide counselling with respect to having difficult conversations in the context of the behaviours you are seeing, or you can work with an Assist peer support volunteer, a lawyer trained in peer support principles, who can provide personal support and coaching. Both of these services are free and confidential.
For employers, change must start at the top. While employers can consider our guide to a physically safe return to the office, now is an ideal time to review, update and promote workplace mental health policies and supports. People are arguably the most valuable asset in our profession, and lawyers are increasingly becoming as interested in how an employer manages the wellness space as the financial incentives or type of work offered. Also, striving for good mental health in the workplace is simply the right thing to do. Determining the best approach to take depends on the nature and size of the organization, but the Centre for Addiction and Mental Health's free Playbook for Business Leaders provides a great overview of what to consider while the Mental Health Commission of Canada's free National Standard and Toolkit will assist with implementing and maintaining a formal psychological health and safety management system in the workplace.
Employers who communicate that their employees can safely disclose their needs, and back it up with clear policies and procedures, may experience improved recruitment and retention.
While we didn't have the benefit of preparing ourselves for the abrupt change to our work environment when this pandemic started, we do have the opportunity to make mental health a top priority as we slowly get back to the physical office, boardroom, or courtroom. Let's not simply return to 'normal'; we can strive for better than that.
All the best,
Rebecca Young
Education Counsel