Koren Lightning-Earle Recognized as Tomorrow's Leader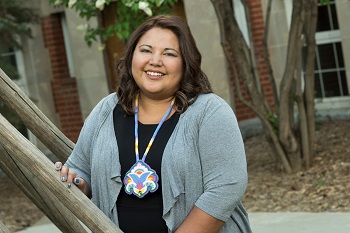 Koren Lightning-Earle, Indigenous Initiatives Liaison of the Law Society of Alberta, is this year's recipient of the Tomorrow's Leader award. This prestigious accolade is part of the Women in Law Leadership (WILL) awards and is presented annually to a lawyer who has demonstrated significant growth, development and initiative throughout her first years of practice, and has shown great promise for superior legal capability and leadership potential through her actions and attitude. Ms. Lightning-Earle, Blue Thunderbird Woman is Cree from Samson Cree Nation.
"Never compromise who you are for success. I have stayed true to who I am and I have succeeded for who I am," says Ms. Lightning-Earle. "Sometimes our industry tries to mold us into something we are not. It's important to be yourself and never apologize for being your authentic self. Happiness is just as important as success. I love my job and the work I do fills my soul every day. Find what fills your soul and enjoy every minute."
As our first Indigenous Initiatives Liaison, Ms. Lightning-Earle has led a program of initiatives to advance the process of reconciliation particularly surrounding access to justice for Indigenous peoples and cultural competency development for staff, lawyers and students. She has advanced our responsibilities to the Truth and Reconciliation Commission's Call to Action in several ways including organizing conferences and training opportunities, revamping the Indigenous Summer Student program and establishing an Indigenous Advisory committee to collect feedback on Indigenous-focused endeavors of the Law Society.
In addition to her work at the Law Society, Ms. Lightning-Earle is a sole practitioner at Thunderbird Law at Maskwacis, Alberta. She is also actively involved in the Indigenous Bar Association and served as President for six years.
Ms. Lightning-Earle was nominated for the award by Dr. Hadley Friedland, Assistant Professor of Law at the University of Alberta and co-lead of the Wahkohtowin Indigenous Law and Governance Lodge.
"I feel thankful to be acknowledged by my peers. It means a lot to be lifted up by other women and it is a very special award. Being an Indigenous female lawyer, this award means a lot to me," says Ms. Lightning-Earle.
Congratulations Ms. Lightning-Earle on this receiving this well-deserved award.