Darlene W. Scott, QC Elected President-Elect 2020-2021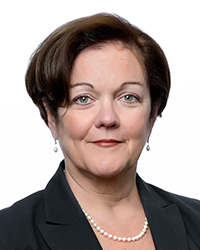 Darlene W. Scott, QC (pictured right) has been elected by the Benchers as the incoming President-Elect. She will join Kent Teskey, QC, who will take over as President from Rob Armstrong, QC in February for the 2020-21 term.
Ms. Scott received her Bachelor of Laws from the University of Alberta. She is currently a partner at the Edmonton office of Dentons Canada LLP and practises in the areas of real estate and financing. Ms. Scott joined the Law Society of Alberta Board in 2014.
"I am pleased and proud to be elected by my fellow Benchers as President-Elect," said Ms. Scott. "I look forward to continuing the work of the Law Society in its goal to be an innovative and proactive regulator while encouraging accessibility of high quality legal services to all Albertans from a diverse, competent and healthy profession."