2023 National Day for Truth and Reconciliation
By Jessica Buffalo, Indigenous Initiatives Counsel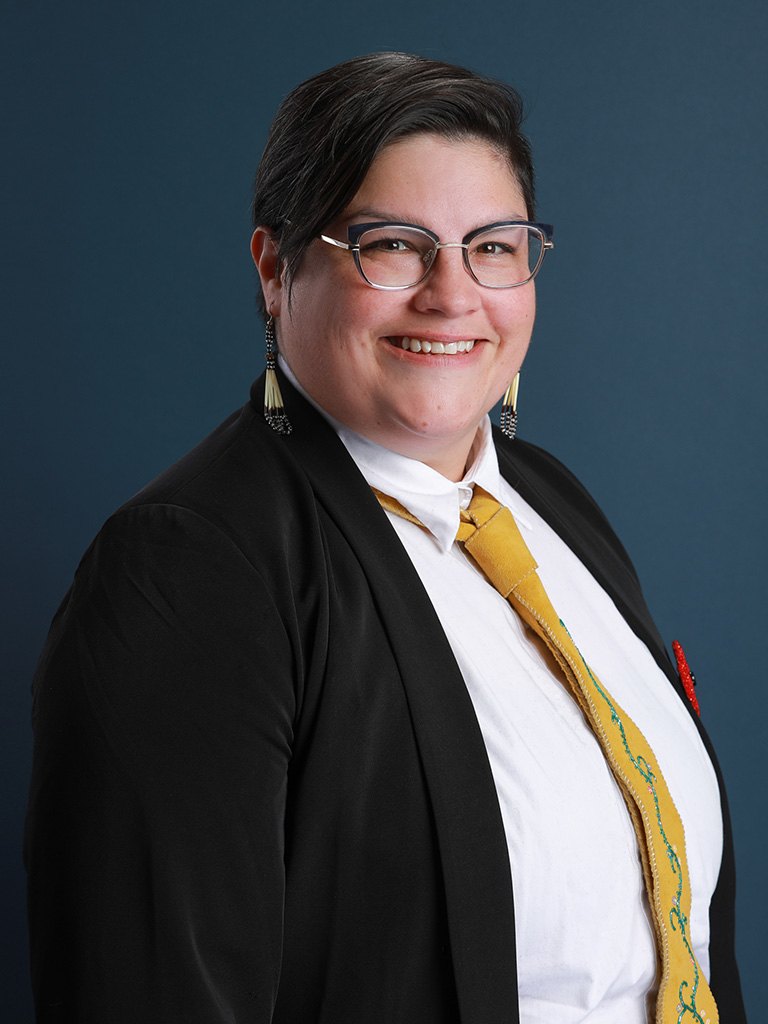 The Truth and Reconciliation Commission of Canada developed 94 Calls to Action after hearing the stories from survivors and their families about the impacts of "Indian Residential Schools." Call to Action 80, "[C]alls upon the federal government in collaboration with Indigenous peoples to establish a statutory holiday for Truth and Reconciliation to honour Indian Residential School survivors, their families, and communities and to ensure the public commemoration of history and legacy of residential schools remains a vital component of the reconciliation process."
Since 2013, Orange Shirt Day has been observed by Indigenous peoples and their allies to honour the Indigenous children who were sent to residential schools in Canada. In 2021, the federal government passed legislative amendments that adhered to Call to Action 80, to establish Sept. 30 as an annual federal statutory day of commemoration known as the National Day for Truth and Reconciliation.
A Guide to National Day for Truth and Reconciliation
It has been eight years since the 94 Calls to Action were released, and progress towards achieving reconciliation has been slow.
I think back to the Pope's apology when he visited Maskwacis, where he quoted Nobel laureate and Holocaust survivor Elie Wiesel: "it is right to remember, because forgetfulness leads to indifference and, as has been said, 'the opposite of love is not hatred, it's indifference and the opposite of life is not death, it's indifference."
This resonated with me because I have felt that indifference since I was a child. I felt it from my teachers when they didn't step in to stop the other children from calling my brothers and I "dirty Indians". I felt it in past relationships when they couldn't understand why I was upset over a microaggression I had just experienced. I feel it every time I go to a store and am followed by a loss prevention officer and the store manager doesn't seem bothered that they just lost a customer for that behaviour when called out. I feel it when I watch the news and see pushback on finding our missing women, or when I brave the comments section and read the vitriol that so many people appear to hold without any sort of empathy. Eight years has passed us by like a blurry shake of the head. Let's move away from indifference and start making a difference by taking action when it comes to reconciliation.
Below are some resources and events available for those seeking to learn more, reflect and act on the National Day for Truth and Reconciliation.
Resources  
Events in Calgary
City of Calgary Orange Shirt Day – Sept. 30, 9 a.m., at Fort Calgary.
Join the City of Calgary to commemorate the victims of Residential Schools, honour survivors, and hear their commitments to reconciliation. Please wear Orange in support.
Tall Feathers Workshop for National Day for Truth & Reconciliation – Sept. 30, 9:30 a.m. – 12:30 p.m., at Bowness Community Association.
Attend this special workshop led by artist, James Zielger, and guided by Elder, Harley Crowshoe, to honour Truth and Reconciliation Day through ceremony, learning, art, healing and connection.
Film Screening – Bones of Crows – Sept. 30, 7 p.m., at 1009 15 Ave SW.
Attend a screening moderated by George Canyon and Gerald Auger (Chief Wandering Spirit), followed by a Q&A period.
Events in Edmonton
Reconciliation Garden Opening – 'Kihciy Maskikiy / Aakaakmotaani' – Sept. 29, 1 p.m., at East Lawn, Legislature grounds.
Attend the opening of the Reconciliation Garden 'Kihciy Maskikiy / Aakaakmotaani' (Cree and Blackfoot words meaning 'sacred medicine / save many people').
KAIROS Blanket Exercise – Sept. 30, 2 p.m., at Queen Mary Park Community League Hall.
Join a public facilitation of the KAIROS Blanket Exercise, an experiential teaching tool.
Virtual Events
Sharing Stories from Families of Residential School Survivors – Oct. 2, 4 p.m. MDT, online.
Listen to stories and reflections from three generations within a family impacted by the Residential school era.
Law Society of Alberta's National Day for Truth and Reconciliation Webinar – Sept. 29, noon – 1 p.m., online.
Join the Law Society's Indigenous Counsel, Jessica Buffalo, Madam Justice Cheryl Arcand-Kootenay of the Court of King's Bench, Chief Justice Derek Redman and Clarissa Pearce of the Alberta Court of Justice, and law student, Crystal Hayden, for a virtual discussion on the Indigenous Judicial Shadowing Programs offered by the Alberta Courts.
Government Resources
Government of Canada – Keep up to date on events and resources by visiting this page regularly.
Government of Alberta – View online resources, including what action has been taken by the Government of Alberta in regards to reconciliation efforts.