Trust Account Fraud Update
In September 2020, the Law Society provided a report to lawyers regarding the prevalence of fraudulent activity reported to the Trust Safety department from January through August 2020.
As we wrap up Fraud Awareness Month, law firms continue to be a target for fraudsters. Although fraud cannot be fully prevented, certain steps can be taken to minimize risk and loss. Lawyers should be aware of common types of fraudulent activity and pay close attention to their bank accounts, records, communication platforms and system security.
The charts below represent a summary of fraudulent activity reported to Trust Safety from Sept. 2020 – March 2021, with a total loss of $90,000.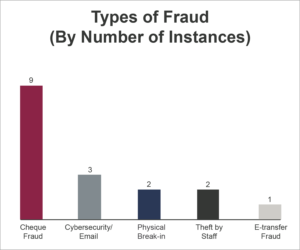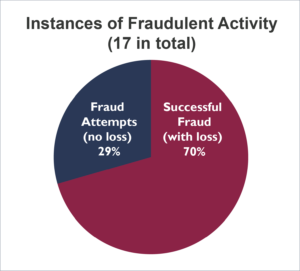 Cheque fraud remains the most common type, with fraudsters either stealing physical cheques and altering them, or forging signatures that look undistinguishable from those of the lawyers within the firm.
Instances of cybersecurity breaches involve hacking into the firm's computer systems, taking staff email addresses or using fake email addresses and presenting themselves as potential clients.
In the instance of e-transfer/wire fraud, the fraudsters were able to obtain account information and withdraw funds from the law firm's accounts.
Theft by staff has also been a rising concern. In this case, new or existing employees of the law firm who have access to internal systems are able to facilitate theft.
Measures to minimize risk
Frequent monitoring of your trust and general accounts is recommended to ensure no unsolicited transactions have occurred, and if they have, they are caught and remedied quickly.
Additionally, it is crucial to ensure your computer systems are secure, updated and backed up regularly.
Be wary of emails and phone calls from unknown individuals and entities, and always verify the email address you receive correspondence from.
You may want to delegate certain responsibilities to internal staff members. However, it is crucial to have continuous supervision over employees and ensure that you are monitoring your systems and records.
Finally, consider obtaining insurance that would indemnify you for a fraud loss. Lawyers and firms are encouraged to research and consider purchasing employee theft insurance.
If you have any questions regarding trust account fraud, contact the Law Society's Trust Safety department via email or at 403.228.5632.