Celebrating an Icon: The Extraordinary Chief Justice, Catherine A. Fraser – Edmonton
Date: September 09, 2022
Location: Edmonton
Address: Edmonton Convention Centre, Hall D; 9797 Jasper Avenue
The Canadian Bar Association – Alberta Branch and the Alberta Civil Trial Lawyers' Association – Women's Legal Forum invite you to attend a very special gala event to celebrate the extraordinary Catherine A. Fraser, Chief Justice of Alberta.
Our Chief Justice is retiring this year after a remarkable career. In celebration of this iconic leader, we expect a sell-out gala dinner with over 1,000 attendees from the Alberta Bar, the judiciary, and other distinguished guests) on Friday, Sept. 9, 2022, at the Edmonton Convention Centre, Hall D.
This is sure to be a memorable gala evening!
The dress code for the event is business attire.
Ticket prices: $150 for individual admission, $75 for lawyers under 2 years at the Bar (buying individual seats), and $35 for students still attending law school. A table of 10 tickets is $1,500.
If you are interested in sponsorship opportunities, please contact the event Co-chairs at a.lindberg@bruyermackay.ca or cdewitt@rmrf.com.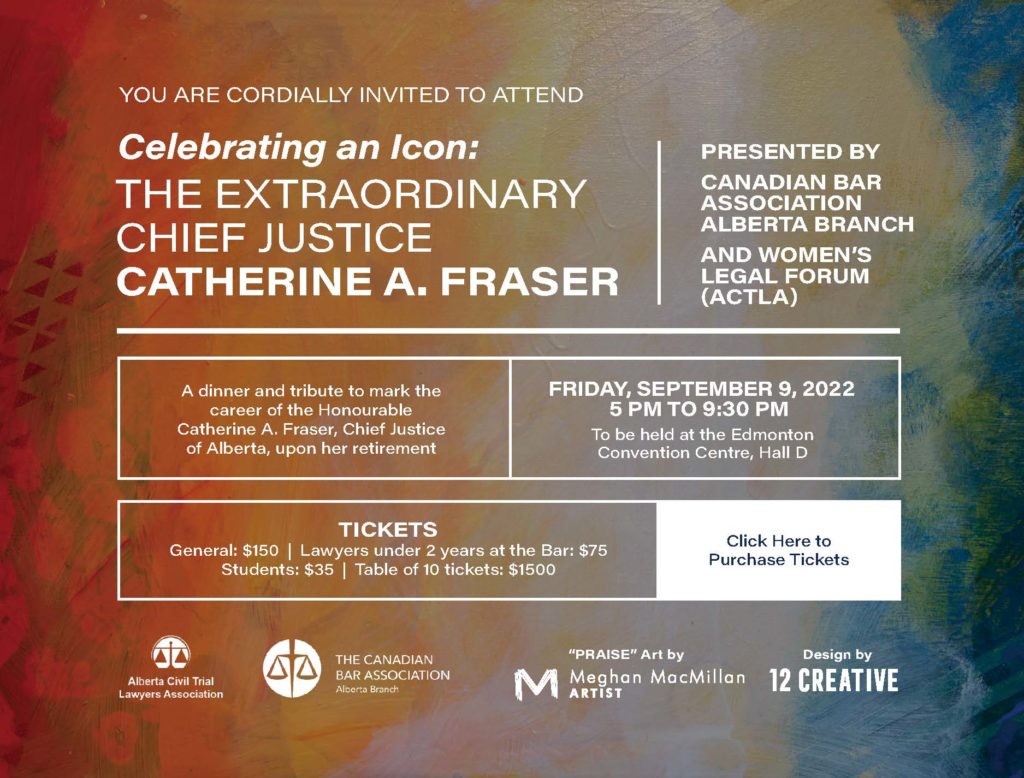 < Previous Event
Next Event >