But I Look Like a Lawyer – Virtual Documentary Screening
Date: May 30, 2023
Location: Virtual Event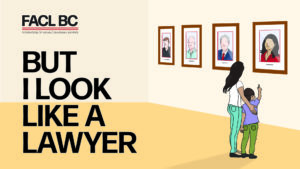 In honour of Asian Heritage Month in Canada, the Law Society of Alberta, Federation of Asian Canadian Lawyers (FACL) BC and FACL Western are partnering to host a virtual screening of the documentary But I Look Like a Lawyer on Tuesday, May 30 from noon to 1:30 p.m.
But I Look Like a Lawyer was originally released in November 2021 by FACL BC. The documentary shares stories of the discrimination, stereotyping and bias experienced by the BC Pan-Asian legal community. It aims to increase intercultural awareness and competency, and to surface the complexity of the historical, socio-economic and colonial aspects of these real lived experiences. It was inspired by the original But I Was Wearing a Suit documentary, a similar film created by Indigenous leaders in the legal community in BC.
The online event will feature a screening of the short documentary followed by a question-and-answer period. The screening will provide a space for discussion around individual and community experiences as well as tools and strategies for dismantling systemic discrimination in the legal profession.
Event Details:
Date: Tuesday, May 30, 2023
Time: 12 p.m. to 1:30 p.m.
Location: Online
Register for the online event through Zoom.
If you have any questions, kindly contact our Education department.
< Previous Event
Next Event >