Black History Month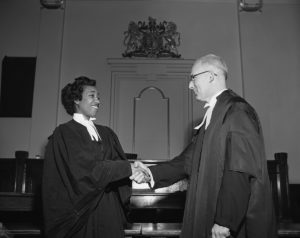 Every February, people in Canada are invited to participate in Black History Month festivities and events that honour the legacy of Black Canadians and their communities. The 2021 theme for Black History Month is: "The Future is Now." Find out more about the history of Black History Month, noteworthy historical figures, as well as organizations and educational resources that promote awareness of Black history in Canada.
As we look to the future, we must also pay homage to the past. One of Alberta's own noteworthy historical figures is Violet King Henry (born 1929 in Calgary), the first Black person admitted to the Alberta Bar in 1954. She was also the first Black woman to become a lawyer in Canada and subsequently the first woman appointed to an executive position with the YMCA in the United States. You can read more about her incredible life and legacy in this article from the Canadian Encyclopedia.
"King shattered glass ceilings and broke down colour barriers to pave the way for future generations. Her hard work and drive to excel in all facets of her career are an inspiration for those who also aspire to do great things in their field." – The Canadian Encyclopedia
Visit this CBC article and this Edmonton Journal article for a list of resources and events and to help your firm or organization get involved in Black History Month.