2022 Viscount Bennett Scholarship Recipients
The Law Society of Alberta is pleased to congratulate Ricki-Lee Gerbrandt, Timothy Nessim and Brandyn Rodgerson, this year's recipients of the Viscount Bennett Scholarship.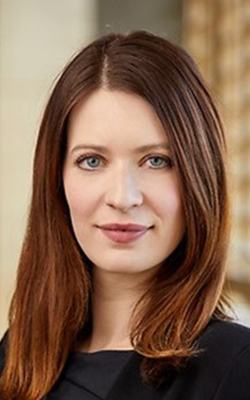 Ricki-Lee Gerbrandt
A first-generation university graduate from Northwest Ontario, Ricki-Lee Gerbrandt has seized every opportunity to pursue her passion for the law. Graduating with a Bachelor of Arts (Honours), double-majoring in Political Science and English Language and Literature at Western University in 2010, Ricki-Lee completed her Juris Doctor at the University of Calgary in 2014, clerked at the Alberta Court of Queen's Bench and completed her articles in Calgary, and then earned her Master of Laws from Harvard Law School in 2016.
Now entering Darwin College at Cambridge University in the U.K., Ricki-Lee's continued commitment to both academia and the legal profession is born out of a love and respect for the law itself.
"I always knew what I wanted to do," says Ricki-Lee. "When I entered law school, I fell in love with being a lawyer, but even more I fell in love with the law. When I had the opportunity to go to Harvard and to work with some of the most intelligent and capable people in the world, I had an unbelievable and life-changing experience."
After completing her LLM at Harvard, Ricki-Lee practiced civil litigation in Calgary, with a focus on media and constitutional law. Joining Lawson Lundell LLP in 2018, Ricki-Lee has represented leading national news organizations, telecommunication companies, and global social media companies in innovative cases involving intermediary liability, defamation, publication bans, and constitutional challenges before the courts of Alberta, British Columbia, and the Northwest Territories.
Ricki-Lee is entering Cambridge with a focus on teaching and advocating for freedom of expression globally, particularly for journalists, human rights activists, and minority groups, communicating online and sharing their stories. Through her doctorate, Ricki-Lee seeks to become an expert in state-sponsored disinformation and propaganda and to develop legal and socio-legal proposals for reform.
"My experiences motivated me to dedicate my career to ensuring that everyone, especially marginalized people, have a voice. I am committed to a career advocating for access to justice and the rule of law, and I am thrilled with embarking on a PhD that will enable me to tackle a momentous issue facing the global community.
I would like to say that I'm incredibly grateful for this support – both of the Viscount Bennett committee and the legal profession as a whole. It's so important for lawyers and students to pursue academics to not only expand their own experiences and knowledge, but to use that privilege to protect the people who need it the most."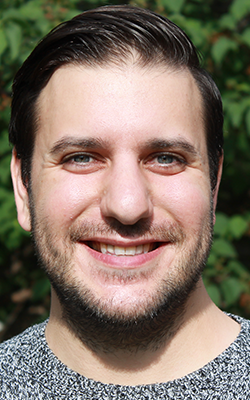 Timothy Nessim
A born-and-raised Albertan, Tim Nessim's academic performance has never been in question. His academic career began at the University of Alberta and his outstanding grades carried over to his law studies at McGill, where he received the Elizabeth Torrance Gold Medal with the best academic record in his 2018 graduating class. Starting his legal career in private practice, Tim then began working for the United Nurses of Alberta in March 2020.
Working remotely through the pandemic, Tim was able to return to the University of Alberta to start his LLM with the support of his employer. While many people would be daunted at the prospect of completing a Masters-level program while working, Tim discovered that he was not only able to represent Alberta's registered nurses during the pandemic, he could also explore his academic pursuits further than he had planned, transferring to the PhD program in January 2022, with a focus on employee protection during employer bankruptcy.
When asked about his topic, Tim acknowledges that he had not exactly intended to devote his career to bankruptcy law.
"In all honesty, I kind of stumbled into it," Tim acknowledges, with a laugh. "I've always been interested in labour and employment law but hadn't taken much interest in insolvency. However, the bankruptcy of an employer is one of the most difficult things an employee can experience in their working life. Once I got onto the topic, I found that it had so much depth and has been underexplored in the academic literature.
"It turns out that employee wage protection was one of the primary issues in Canadian bankruptcy reform for nearly forty years. The need for greater employee protection was one of the main drivers of bankruptcy reform efforts but, at the same time, Parliament's inability to agree on a mechanism for employee protection made comprehensive insolvency law reform impossible. My research examines the institutional, ideological, political, and economic factors that put employee protection on the legislative agenda in the 1970s, that prevented Parliament from finding a solution for 30 years, and that eventually resulted in reform and implementation of the Wage Earner Protection Program in 2008."
As Tim's journey to academia was somewhat unexpected, he is extremely grateful for the opportunity that the Viscount Bennett scholarship affords him.
"By the time I transferred to the PhD program, most funding opportunities for the upcoming academic year were already closed. This scholarship provides support to pursue my research at a time when I didn't have a lot of other external funding options. Thank you to the committee and to the Viscount Bennett trust for recognizing and supporting my research.
Brandyn Rodgerson
Brandyn Rodgerson's interest in the protection and promotion of human rights – particularly the right to health care – has been a consistent throughline of his education and career, from his undergraduate studies at the University of Saskatchewan, to his Juris Doctor with First Class Honours at the University of Alberta, to his recent admission to the LLM program at Harvard Law School.
After completing his degree at U of A, Brandyn has returned time and again to his interest in the larger questions and protections that the law affords, particularly during his clerkships with the Court of Appeal of Alberta and the Supreme Court of Canada.
"My Supreme Court clerkship was the best experience I have had, at least regarding my legal career," says Brandyn. "While demanding, delving into complex legal issues and contemplating what the law is and what the law should be was invigorating.
"My time at the Court reminded me of the important role that the law has in shaping society. Though incremental, the common law has been and continues to be an effective tool in advancing the rights of individuals around the world."
Currently living in Brooklyn and working in private practice at Sullivan & Cromwell LLP, Brandyn continues to pursue opportunities to blend his substantive knowledge of the law with his commitment to the rights of marginalized communities, particularly medical rights.
"Last fall, I was asked to join a pro bono matter, challenging the constitutionality of Arkansas's H.B. 1570. This law would prohibit health care professionals from prescribing, and transgender minors from receiving, gender-affirming health care. This matter has taught me invaluable insight into trial-level and appellate-level litigation. More though, it has sparked a desire to learn more about the extent to which we, as Canadians, have a 'right to health care' and how the conception of this 'right' differs under varying constitutional structures."
Moving into his LLM at Harvard this fall, Brandyn hopes to continue combining his health care advocacy with his legal education. The Viscount Bennett Scholarship will enable him to focus on his studies and while continuing his important work supporting the medical rights of marginalized communities on both sides of the border.
About the Viscount Bennett Scholarship
The Viscount Bennett Scholarship is funded through a trust established by the late Right Honourable Viscount Bennett. It was put in place to encourage a higher standard in legal education, offered to support those interested in pursuing post-graduate studies in law. This prestigious accolade is awarded to individuals with an exceptional academic record and a clear dedication to contribute to their community through the practice of law.