Re-examining the Lawyer Identity: It's Okay to Ask for Help
As referenced in our Strategic Plan, the Law Society of Alberta sees mental health and well-being as an important aspect of ethical and competent lawyering. Well-being can impact a lawyer's ability to perform to their best ability. Conversely, feeling that one has done all they can to competently conduct their work can help reduce stress related to feeling underprepared or overwhelmed.
The recent National Study on the Health and Wellness Determinants of Legal Professionals in Canada (the Study) draws attention to many areas where shifts in perception and additional supports are necessary for legal professionals so they can both perform at their best and be well. A total of 7,817 participants completed the questionnaire that informed the Study, including 806 lawyers from Alberta.[1]
A Crisis of Identity
One of the areas the Study explores is the idea of the lawyer identity, which has traditionally left little space for imperfection or a well-balanced life. The Study showed a high degree of internalized stigma for people who have experienced mental health issues during their careers, as well as a low rate of seeking help for those challenges. A lawyer's sense of belonging in their profession is a central part of the lawyer identity, and the Study suggests that many lawyers do not seek help or even share their struggles with trusted colleagues for fear of being judged and being seen as something less than the perfect professional many lawyers feel pressure to be perceived as.[2]
Of course, no one is perfect and accepting this requires vulnerability. This has not traditionally been part of the lawyer identity, but the Study shows that this identity requires some reshaping if we are to be a healthy, and perhaps counterintuitively, high-performing profession.
The Study made clear that an individual experiencing difficulties may be perfectly able to meet their professional and ethical obligations, but that there is no need to do so without supports. Accessing supports does not indicate that the lawyer is incapable of delivering ethical and competent legal services, and doing so may prevent a further deterioration of psychological health which may eventually be one factor that contributes to a conduct issue.[3]
Practising in a regulated profession comes with inherent stressors, one being the pressure to stay up to date in a society where the pace of change is unprecedented. The Study showed that keeping professional expertise current represents a constant and significant pressure for legal professionals in Canada. This challenge is exacerbated by a culture that often de-incentivizes spending time to develop knowledge and skills.[4] In Alberta, 75.4% of lawyers who responded to the Study stated they felt pressure to constantly update their knowledge in the face of heavy workloads and fast-paced change. Across the country, 52.5% of participants in the Study were concerned about not being sufficiently up to date on the essential aspects of their practice.[5]
While keeping up to date can be a significant stressor, it is necessary to maintain one's ability to provide competent legal services in their areas of practice, which can ultimately reduce stress. The Law Society's approach to continuing professional development allows lawyers to build flexible plans that work for their circumstances. The new Professional Development Profile and CPD Tool provide additional guidance to help lawyers determine their learning needs and carry out activities that make sense in the context of the specific demands of their practice. If lawyers are unsure how to create an effective plan that works for their circumstances, the Education department can provide support to reduce the stress associated with this professional requirement.
While the stress of embodying the lawyer identity of perfection has been unduly perpetuated by the legal culture, there can be substantial stress related to the potential consequences, for both the lawyer and their clients, of making big mistakes. Asking for help before those mistakes are made can greatly reduce psychological distress around being unsure about the right next step and the stress of dealing with the fallout.
When lawyers don't ask for help, the results can be bleak. The Study also measured legal professionals' "affective commitment to the profession," which refers to the degree of identification and the emotional attachment a professional has to their profession. The Study cites earlier research which shows that a high degree of affective commitment leads to an increase in both the desire to be involved in professional development activities[6] and overall job performance[7] and a decrease in mental health issues.[8]
On the other hand, as affective commitment decreases, intention to leave the profession increases. The Study revealed that, across the country, 27.2% of the respondents regularly consider leaving the profession. The numbers are even higher for women (30.8%), professionals with 0–9 years of experience (34.8%) and for those in private practice (29.3%). The Study showed that the intention to leave the profession is associated with increased psychological distress, depressive symptoms and burnout.[9] For those surveyed who had made the decision to leave the profession, the two most frequently cited reasons are the stress associated with professional practice and the lack of work–life balance.[10]
All of this demonstrates a need to shift the lawyer identity away from a culture of celebrating being overworked and performing in the face of high stress and toward a culture that increasingly normalizes vulnerability and balance and creates time and space for mentorship and development of knowledge and skills.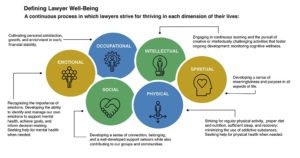 Help is Available
If you or someone you know is feeling overwhelmed, or dealing with something that may be impacting your ability to capably perform your job, the Law Society offers many other supports that can help lawyers deal with challenges in a constructive way. Practice Management consultations are available at no cost to help lawyers identify potential areas of risk before problems develop and client relations suffer. Our free, voluntary self-directed Practice Management Assessment Tool helps you rate your effectiveness in a variety of practice management areas and provides a curated list of free resources to help address gaps and manage risks. The Law Society's Trust Safety department is available to assist Responsible Lawyers and law firms with their trust accounting and safety questions and concerns.
Our confidential Practice Advisor services can help lawyers navigate ethical and practice matters. They respond to over 6,000 enquiries each year. Finally, our Equity Ombudsperson provides confidential assistance with the development of workplace policies and the resolution of harassment and discrimination concerns. All these services can help lawyers who are feeling overwhelmed to resolve the issues they are facing in a supportive way.
For lawyers who need immediate crisis support, the Alberta Lawyers' Assistance Society (Assist) offers 24/7 crisis counselling via telephone. Please call 1-877-498-6898 if this is the type of help you need.
We Can All Be Helpers
Not only is it important for lawyers to become more comfortable asking for help, it is also important to create a supportive environment that lets others know it is okay to ask for help. Everyone in the legal profession can contribute to the destigmatization of mental health issues and promote the importance of seeking supports.
The Study suggests using the STOP criteria to recognize attitudes and actions that support the stigma of mental health conditions. To do this, just ask yourself if what you are hearing in your workplace:
Stereotypes people with mental health conditions (that is, assumes they are all alike rather than individuals)
Trivializes or belittles people with mental health conditions and/or the condition itself
Offends people with mental health conditions by insulting them
Patronizes people with mental health conditions by treating them as if they were not as good as other people
Recognizing and calling out these actions can help to move towards a more welcoming and supportive workplace for all. Sharing past challenges and listening to and supporting others in their difficult time creates a healthier and ultimately more realistic environment where we can learn to recognize our limits, support one another and learn from our mistakes.
By: Barbra Bailey, Manager, Education
References
[1] Cadieux, N., Gingues, M., Cadieux, J., Gouin, M.-M., Fournier, P.-L., Caya, O., Pomerleau, M.-L., Morin, E., Camille, A. B., Gahunzire, J. (2022). Research report (final version): Towards a Healthy and Sustainable Practice of Law in Canada. National Study on the Health and Wellness Determinants of Legal Professionals in Canada, Phase I (2020-2022). Université de Sherbrooke, Business School. 422 pages, at p. 18.
[2] Ibid at pp. 283-284.
[3] Ibid at p. 388.
[4] Ibid at p. 289.
[5] Ibid at p. 293.
[6] Ibid at p. 310, citing Snape & Redman, 2003.
[7] Ibid at p. 313, citing Lee et al., 2000.
[8] Ibid at p. 315.
[9] Ibid at p. 315.
[10] Ibid at p. 304.