---
Rule 119.38 requires all law firms, unless exempt, to provide a completed Law Firm Self-Report to the Law Society on an annual basis. The report is proof of compliance with Part 5 of the Rules.
In this report, your law firm provides details regarding your practice, trust accounting and other related activities during the preceding year. In general, one report is completed for the practice and this will satisfy the filing requirements of all the lawyers (associates and partners) of your practice. You as the Responsible Lawyer are accountable for all filing requirements of your law firm, as per Rule 119.10.
All law firms are required to e-file the annual Law Firm Self-Report via the Lawyer Portal.
Reporting Requirements
E-file a complete Law Firm Self-Report via the Lawyer Portal annually by March 31. The online Law Firm Self-Report is divided into four sections outlined below:

Firm Practice Profile
Bank Account Information
Trust Bank Account Reporting
Law Firm Self-Report:

Section A: General Information
Section B: General Bank Account
Section C: Trust Bank Account
The sections that need to be completed will depend on whether your law firm operates a trust bank account. The following chart outlines your responsibilities depending on the situation of your firm: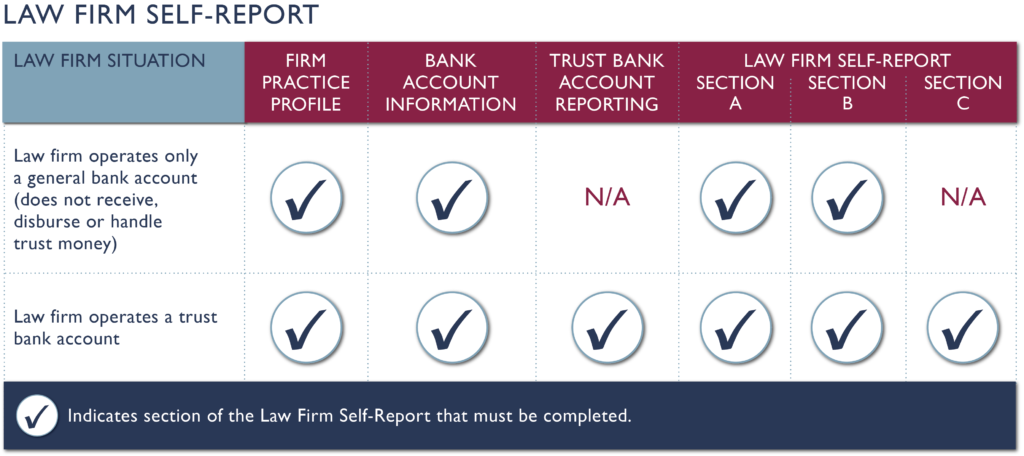 2. Ensure that Membership Services has your up-to-date contact information (including telephone/fax numbers, mailing/email addresses and change of name). Please submit all change requests to Membership Services prior to submitting your Self-Report.
Additional Resources
Check out our webinar on how to e-file the Law Firm Self-Report for further information.
Trust Safety staff are also available to answer questions and provide any information you require to help your firm smoothly e-file your Self-Report via the Lawyer Portal. Do not hesitate to contact us by emailing Trust Safety or calling 403.228.5632.