Indigenous Initiatives Liaison Announcement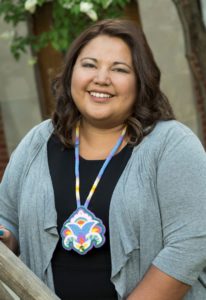 At the end of the year we bid farewell to our Indigenous Initiatives Liaison, Koren Lightning-Earle (pictured right), and welcome Andrea Menard (pictured below right) to continue advancing our work around the Truth and Reconciliation Commission Calls to Action.
Over the past two and a half years, Ms. Lightning-Earle has laid impressive groundwork on behalf of the Law Society to progress Indigenous programming and awareness.  She has delivered Indigenous cultural competence training to Law Society Board and staff, as well as to Alberta's lawyers. She led the development of free educational opportunities including lunch and learns, webinars and conferences. She also garnered renewed interest in the Indigenous Summer Student Program,
focusing on recruitment and ongoing support for students and firms along the way. With Ms. Lightning-Earle's leadership, the Law Society established an Indigenous Advisory Committee to collect feedback and input on our current work and future areas of focus.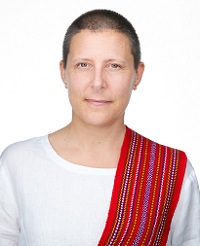 "We are grateful for all Ms. Lightning-Earle has helped us accomplish during her time as our Indigenous Initiatives Liaison. We look forward to continuing to work with her in her new capacity as a lawyer for Wahkotowin Law and Governance Lodge," says Cori Ghitter, Deputy Executive Director and Director, Professionalism & Policy.
There is still work to be done and the Law Society is committed to moving forward. Our Strategic Plan places a high importance on equity, diversity and inclusion and responding to the TRC Calls to Action.
We are pleased to welcome Andrea Menard who will keep moving us down a path of lasting change around Indigenous initiatives in Alberta's legal community. Ms. Menard received her Bachelor of Laws from the University of British Columbia in 2004 and is currently working on her Master of Laws at Osgoode Hall Law School. Most recently, Ms. Menard held the role of Indigenous Relations Manager at Legal Aid Alberta (LAA). Through this position she played an integral role in developing and implementing LAA's Indigenous Action Plan to address the TRC Calls to Action, a plan that includes cultural awareness and Gladue Sentencing principles training, establishment of an Indigenous Employee Network, and exploring opportunities to improve access to LAA services for Indigenous clients in both urban and rural areas. A big part of this work was extensive consultation with Indigenous communities on improvements to Legal Aid.
Ms. Menard holds over 10 years of experience educating professionals on Indigenous peoples history and laws, access to justice issues, the impacts of colonialism, generational trauma, and changes that are needed to improve the justice system. Throughout her career she has bridged the gap between Indigenous clients and the legal system by providing ongoing education and support. This includes building and maintaining cooperative and productive relationships with Indigenous communities and organizations; and effectively liaising with internal and external stakeholders on sensitive matters that require conflict resolution and intercultural diplomacy and knowledge.
The Law Society is motivated to pursue future work in this space and appreciative of the hard work that has brought us to where we are today. We look forward to all the great work that will continue under Ms. Menard's direction.