2023 Indigenous Mentorship Program Meet & Greet
Date: February 01, 2023
Location: Calgary, Online Event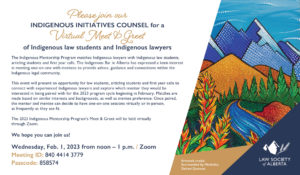 Please join our Indigenous Initiatives Counsel for a Virtual Meet & Greet of Indigenous law students and Indigenous lawyers.
The Indigenous Mentorship Program matches Indigenous lawyers with Indigenous law students, articling students and first year calls. The Indigenous Bar in Alberta has expressed a keen interest in meeting one-on-one with mentees to provide advice, guidance and connections within the Indigenous legal community.
This event will present an opportunity for law students, articling students and first year calls to connect with experienced Indigenous lawyers and explore which mentor they would be interested in being paired with for the 2023 program cycle beginning in February. Matches are made based on similar interests and backgrounds, as well as mentee preference. Once paired, the mentor and mentee can decide to have one-on-one sessions virtually or in-person, as frequently as they see fit.
The 2023 Indigenous Mentorship Program's Meet & Greet will be held virtually through Zoom.
We hope you can join us!
Event details: 
Wednesday, Feb. 1, 2023 from noon – 1 p.m. / Zoom
Meeting ID: 840 4414 3779
Passcode: 858574
< Previous Event
Next Event >