Indigenous Initiatives Liaison
Indigenous Initiatives Liaison
---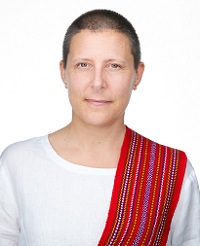 Andrea Menard is the Indigenous Initiatives Liaison at the Law Society of Alberta, and is an urban Métis whose family originally came from the Red River Settlement in Manitoba. She obtained her law degree from UBC in 2004 and practiced in a small firm before working on-reserve for First Nation's Treaty rights in Williams Lake British Columbia for the T'exelc Nation. From there, Andrea moved to Edmonton, and was the Director of Indigenous Academic Services at the Faculty of Law at the University of Alberta where she coached the Kawaskimhon Moot, tutored first year law students, and led the faculty on Indigenous initiatives. Andrea also worked for the Alberta and BC governments in regards to Indigenous traditional land rights and natural resource initiatives. She was also most recently the Indigenous Initiatives Manager at Legal Aid Alberta where she created Indigenous restorative justice programming and inter-cultural training for lawyers. Andrea has a Masters of Laws from Osgoode Hall Law School (York University) in the area of Dispute Resolution with a focus on Indigenous laws and communication methodologies.
Andrea's key responsibilities are to:
develop relationships with Indigenous Peoples and communities;
engage in and garner support from Elders and Traditional Knowledge keepers to form a base of organizational understanding of Indigenous history and culture in Alberta for staff and lawyers;
work collaboratively to develop understanding of access to justice issues affecting Indigenous peoples; and
act as an educational resource for the profession and for Law Society committees and staff, particularly in the areas of Access to Justice, Equality, Equity, Diversity and Lawyer Competence.
Andrea also represents the Law Society on national and inter-provincial initiatives with respect to reconciliation, equity, equality and diversity issues. She develops, delivers, and maintains educational and training material on the topics of intercultural competency, conflict resolution, human rights, anti-racism, and equity, equality and diversity in the legal profession. Andrea works with Law Society staff to support and assist the Indigenous Initiatives mandate and programming; and she also chairs the Indigenous Advisory Committee.